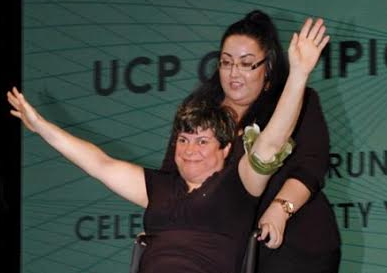 My name is Anna and I am originally from Jamaica Queens, New York. I have two brothers named Paul and Sal. I moved to Phoenix, Arizona in 2013 shortly after my mother passed away.  This was a very hard time for me as my mother was always by my side, she was truly my best friend as well as a mother.
I was diagnosed with Cerebral Palsy as a toddler. My birth had been traumatic, not only was I in the breech position, but the doctor dropped me as I was born.  Although Cerebral Palsy was a diagnosis, doctors were still unsure of the proper treatment and care that I needed. My parents were in denial during the early years of my life, they soon were faced with the reality of my diagnosis, and agreed to surgery so that I could walk. Soon I was able to do more of what other kids were doing. Still, as I entered middle and high school my parents were very fearful for me and had trouble letting me go. Even though I knew that I was capable of doing everything I needed to, school, work and socializing with friends.
When I arrived to Arizona, my brother Paul took me under his care. We were in search of an Adult Day program for me to increase my skills as well as become more independent.  After searching for different programs we found UCP of Central Arizona. My brother Paul and I were surprised as we did not know there was a UCP in Arizona.
I have been attending the Adult Day Program (DTA) at UCP of Central Arizona for over a year now. While attending the program I am able to participate in everyday activities as well as taking field trips out in the community.
UCP has helped me by increasing my personal and educational goals. These goals include walking, money competency, computer and keyboard skills, as well as taking art classes. I also have the opportunity to volunteer during the annual sweetheart dances in February. Attending UCP makes me feel as if I belong to something important, and gives me a sense of independence.
One particular goal I am currently working towards accomplishing with UCP is contributing in the work place. I am able to work on certain skills and tasks at UCP that help prepare me for the future and job placement.
"The Day Program for Adults not only means a lot to Anna but to my family as well. It gives me a sense of comfort in knowing that Anna has a place to go and to be a part of something special." Says Paul, Anna's brother.
UCP is special to me, because the staff takes the time to truly help me and other members reach our highest potential. They remind us each day that we have the ability to accomplish anything our heart desires.
-Anna Del Giudicer