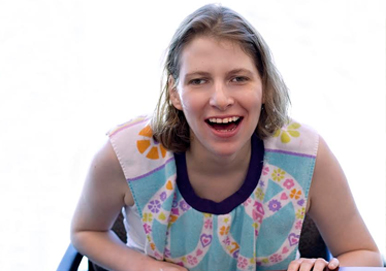 Courtney is an integral member of UCP's Day Treatment Program. Presently, she lives in a wonderful group home a few blocks away from her childhood home and her parents. Courtney is one of eight children. This beautiful young lady is also the proud "Auntie" to 18 amazing nieces and nephews. She plays a very active role in the life of her family.
When Courtney was very young she was diagnosed with Cerebral Palsy as well as a profound cognitive impairment. While she is functionally non-verbal, she is able to communicate using a combination of vocalizations, gestures and some signs to make her thoughts and desires known to others. Courtney is a cheerful and outgoing young lady  who loves nothing more than being with the people she loves and who love her.
UCP has been a Godsend to our entire family. Courtney has participated in UCP's Day Treatment and Training Program for Adults (DTA) for many years. As a child, she also participated in the youth programing available through UCP. The DTA program gives Courtney and her peers ongoing opportunities to form meaningful relationships with each other. This program also helps Courtney and her peers to remain active in the community through an array of activities that cater to all interests. They frequently venture out into the community on outings where they learn about the community as well as develop valuable life skills.
Watch this short video featuring the Smith Family
– Nancy and Chuck Smith, Courtney's Parents