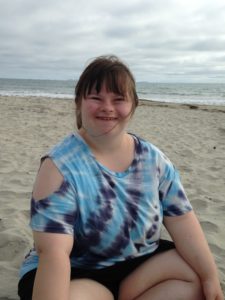 Krista is 20 years old and has Down's Syndrome . She is the light of her parents and her beautiful personality and contagious smile bring so much joy to everyone around her.  Before UCP, her parents rarely went out or had any free time. They did not feel comfortable leaving Krista with an untrained person until UCP came along.
Krista graduated from Liberty High School in May 2016.  She had a terrific high school experience! Krista now volunteers at four elementary schools and at her former high school.  She assists teachers with sorting papers, returning papers, categorizing markers and pencils and assists students with flash cards.  Krista loves her " jobs"! She has been doing this for 2 years.  Her great work was even featured on  ABC15 in a story about education and giving back to the community.  Krista has also been awarded with Volunteer of the Year at one of her schools just last month.
Along with her incredible volunteer work, Krista is also quite the athlete. She is involved with Special Olympics, and is a proud original member of the Westside Warriors Unified Delegation,whom offer many different Unified Sports in the Northwest Valley of Arizona.Krista has participated in Bocce Ball, Cheerleading and Volleyball competitions and has won medals for ALL! Her medals are great, but to Krista, her lasting friendships are worth more then any award.
Krista and her family have benefited so much from all of the services provided by UCP, such as Respite, Habilitation and Attendant care. The active and happy life she is living today could not be possible without the high quality of home care she receives from UCP. Her providers have done an amazing job in preparing Krista for life after high school!
-Kathy, Krista's Mom