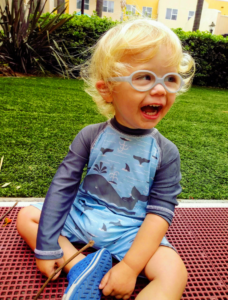 Dean Patrick Solomon was born a healthy full-term baby boy. At an early age within his first few months of life, breastfeeding began a struggle and he would commonly refuse to nurse and scream and cry when it was time to eat. In order to help with weight gain and increase his night sleep stretches, we starting giving Dean breast milk in a bottle, before naps and bedtime. For most of infancy he was able to maintain healthy weight gain but on a slower scale and was always in a very low percentage for weight. Once it began time to start introducing solid foods, we continued to experience lots difficulty and reservations, relating to feeding and food. Dean refused all food he was introduced too, minus a very few (yogurt and sweet potatoes). At first we thought he may just not be ready to start solids, but as time went on, he did not show any improvements and started losing weight. At one point his weight was so low, that he wasn't even on the weight charts. We also started noticing other developmental delays, in speech, OT (self-feeding skills) and physically (he was a late walker) and behavioral (partly due to hunger).
At Dean's fifteen month appointment, we discovered he was severely farsighted and started noticing both his eyes crossing (double Strabismus), which we have now learned could have also contributed to his developmental delays/ potentially his feeding issues. We were able to get him to a pediatric ophthalmologist and get him in glasses and later on eye surgery for the strabismus.
After taking to a few friends who had gone through similar situations with their children, I learned about the Arizona's Early Intervention program. I submitted a referral for Dean immediately and was assigned United Cerebral Palsy (UCP) as Dean's service providers for Early Intervention. Dean was immediately evaluated in our home for services. The service coordinator was beyond amazing and was so reassuring and compassionate during emotional moments for me as his mother. Dean qualified for multiple services and he began his therapies right away. Since starting feeding therapy and occupational therapy at the UCP clinic, as well as speech and developmental therapy at home, we have seen dramatic growth and progress. He is now speaking in two to four word sentences (he didn't say mom or dad when he started) and is learning and repeating new words every day. With the support and help from or wonderful therapists, he has overcome his significant aversions with sensory play and experiences, and is now able to play in sand or with play-dough. He has also made huge stride with his eating and has been able to maintain a healthy weight. He will be graduating from the early intervention program at age three and we are confident and so thrilled that he will no longer need services because of all the progress that he has made since starting with United Cerebral Palsy. We are beyond grateful for all the help he has received and are thrilled to know that he is where he needs to be in his developmental because of the early intervention services he is receiving.
Shelley, Dean's Mom