Dear Friends of UCP: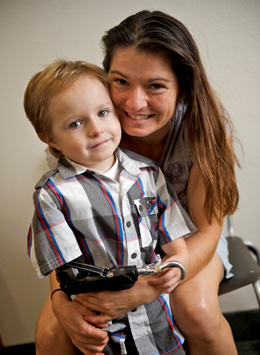 My name is Melissa and I am writing today to ask you to help unlock a child's potential by giving to United Cerebral Palsy of Central Arizona through the Arizona Charitable Tax Credit Program.
My husband Anthony and I are the parents of Marcus, a beautiful, bright and courageous seven year old. Marcus was born with scoliosis, without a right arm, his left elbow fused and the thumb missing from his hand. There is no medical explanation for why Marcus was born this way. It can happen to anyone.
After his 2nd birthday, Marcus began Therapy Services at UCP and the journey to unlocking his potential began. First he received Occupational Therapy because he had yet to crawl and with feeding issues he had to learn how to eat by grasping food in different ways. It was an amazing start as Marcus began to develop beyond our expectations.
Soon Marcus was fitted with a right arm prosthesis and Physical Therapy allowed him to develop core strengths to support his spine through exercise such as swinging and playing ball. We never thought it possible but our son learned to ride a bike!
With your donation to UCP through the Arizona Charitable Tax Credit Program you can help a child, just like Marcus, receive a scholarship for Therapy Services and it won't cost you a dime!
Not only will you receive a dollar-for-dollar tax credit up to $200 for an individual and $400 for a couple filing jointly your donation will also unlock a child's potential to a life without limits!
Thank you for your donation to UCP and for hearing my story. Our dear Marcus has recently been diagnosed with cancer and while we are hopeful for a positive outcome we will forever be grateful to UCP for giving Marcus the confidence to face his challenges and for teaching us the skills to help him through them.
Sincerely,
Melissa
Marcus' Mom
To learn more about the Arizona Charitable Tax Credit, click here for a printable tax credit flyer. You can also donate by check, payable to UCP of Central Arizona, 1802 W. Parkside Lane, Phoenix, AZ 85027 Or donate by phone by calling UCP at 602-943-5472