EARLY LEARNING CENTER

UCP of Central Arizona's Early Learning Center (ELC) is a high quality developmentally appropriate learning environment serving children ages 6 weeks to 5 years of age with and without disabilities. The UCP ELC  is accredited by the National Association for the Education of Young Children (NAEYC) and Quality First. Our ELC is a 5 star Quailty First Center. Although most of the children at the Early Learning Center are developing without delays, 30% of the children have physical and/or cognitive delays that may be related to a disability. This unique environment promotes growth in all the children at the ELC. The children with disabilities are challenged by peer modeling of developmental skills by their classmates. The children without disabilities learn acceptance and understanding of others who are different from themselves through opportunities for friendship. The ELC's inclusive environment sets the program apart by fostering empathy at an early age, preparing all the children socially and emotionally with invaluable life skills.
The Early Learning Center has low staff to children ratios to allow children to be engaged in learning opportunities within age and developmentally appropriate groups. The ELC strives to stay within the following NAEYC ratios:
Infant Room:  4 infants to 1 adult
One- Year- Old Room: 5 children to 1 adult
Two- Year- Old Room: 7 children to 1 adult
Preschool Room: 10 children to 1 adult
As the UCP ELC staff are knowledgeable in child development, each child is placed in the appropriate classroom not only according to age but ability. Children are routinely screened using the following assessment tools: Ages & Stages Questionnaires® (ASQ) and Teaching Strategies Gold. In addition, through collaboration with UCP's early intervention program and clinic therapy program, ELC staff has other professionals to collaborate and consult with. The clinic therapy team provides opportunity for additional developmental screening for the three younger classrooms and an early handwriting screening for the Preschool annually for families who are interested.  Some children attending the ELC are able to receive feeding, occupational, speech, and physical therapy during their program day. If the child has services through the Department of Developmental Disabilities (DDD), the child may request to be seen before drop off or after pick up for the caregiver to attend.
The staff in the UCP ELC are highly qualified, trained and dedicated to ensure the highest level of care and education for each child. Several ELC staff has been at UCP for several years and have children who do or have participated in the UCP Early Intervention, clinic therapy and/or the ELC program, creating a unique family-oriented atmosphere.  Staff is trained to provide the children with various age appropriate activities that engage the children and facilitate learning opportunities. The children are encouraged to learn through play. Classroom activities encourage peer to peer interactions and foster social-emotional growth and development. The Toddlers through Preschool program use Primary Care Groupings to group the children in smaller social settings, providing for more individual interactions with peers and teachers.
Laura Dozer Center's theme is the Enchanted Forest which invites children to play and imagine. The UCP ELC has outdoor play area covered by trees, state of the art playground equipment and a water play area for warm days. The Preschool area has a garden that the children can learn about growing plants. The classrooms and play areas have been designed for safety and to ensure a healthy environment for the children. Our playground and classrooms are accessible according to American with Disabilities Act (ADA) and provide opportunities for all children to have the ability to participate. The UCP ELC is open from 6:30 a.m. to 6:00 p.m. Monday through Friday.  Part time and full time care is available. For information on rates, please call 602-682-1880 or 602-682-1840.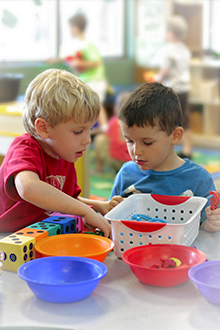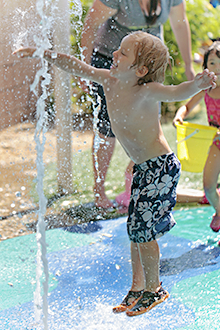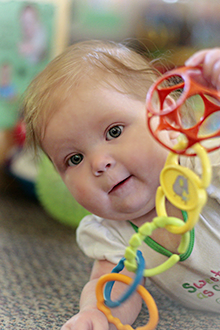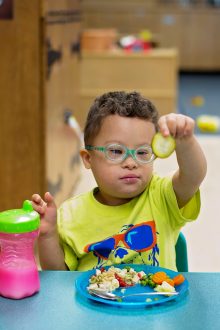 UCP Early Learning Center participates in the following programs:
National Association for the Education of Young Children (NAEYC)
The National Association for the Education of Young Children is a professional organization that works to promote high-quality early learning for all young children, birth through age 8, by connecting early childhood practice, policy, and research.
NAEYC accreditation is the gold standard for early childhood programs across the country. Families of young children who attend NAEYC accredited programs can be confident that they deliver the highest quality early care and education.  For families that means a higher standard for the credentials of staff in the classrooms, on-going training of classroom staff, lower ratios between classroom teachers and children and continuity of care with less shifting of teachers between classrooms.
NAEYC Accreditation helps parents find the best possible early childhood experience for their children. NAEYC-Accredited programs must:
Promote positive relationships for all children and adults to encourage each child's sense of individual worth.

Implement a curriculum that fosters all areas of child development: cognitive, emotional, language, physical, and social. Use developmentally, culturally, and linguistically appropriate and effective teaching approaches.

Provide ongoing assessments of each child's learning and development and communicate the child's progress to the family.

Promote the nutrition and health of children and protect children and staff from illness and injury.

Employ and support a teaching staff that has the educational qualifications, knowledge, and professional commitment necessary to promote children's learning and development and to support families' diverse interests and needs.

Establish and maintain collaborative relationships with each child's family.

Establish relationships with and use the resources of the community to support achievement of program goals. Provide a safe and healthy physical environment.

Implement strong personnel, fiscal, and program management policies so that all children, families, and staff have high-quality experiences.
Quality First 5 Star Rated Center
Quality First is a signature program of First Things First whom partners with child care and preschool providers to improve the quality of early learning for kids birth to 5 across Arizona. Quality child care and preschool programs build on basic health and safety to include:
1. Teachers who know how to work with infants, toddlers and preschoolers,
2. Learning environments that nurture the emotional, social, language and cognitive development of every child, and
3.Positive, consistent relationships that give young children the individual attention they need.
Child and Adult Food Care Program (CACFP)
The Child and Adult Care Food Program (CACFP) provides aid to child and adult care institutions and family or group day care homes for the provision of nutritious foods that contribute to the wellness, healthy growth, and development of young children, and the health and wellness of older adults and chronically impaired disabled persons.
Empower Plus Program
Empower Plus requires nutritional standards for the children's meals and promotes family dining so that children learn social skills during mealtime.
The Early Learning Center is licensed by the Arizona Department of Health Services Child Care Facilities
Learn more about our Early Learning Center
EARLY LEARNING CENTER
Hours: Monday through Friday from 6:30 am – 6:00 pm year round. Part time and full time care available.