2021 Spring Newsletter – Our Way Forward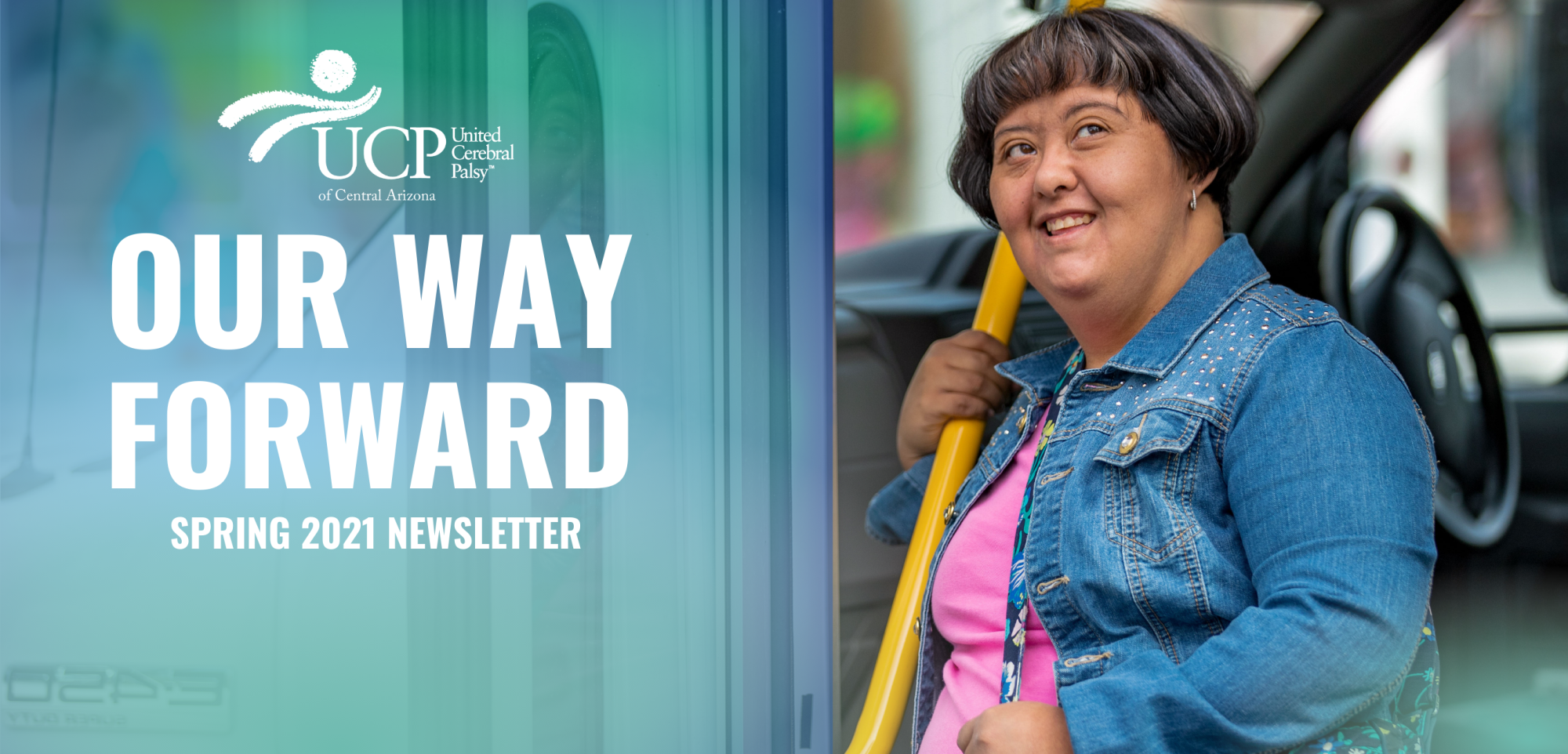 CEO Message
Dear Colleagues,
One year ago, the world changed and the impact was catastrophe. The COVID-19 global pandemic arrived, and by early summer, we knew — like every other organization — the pandemic reality would bring an entirely new set of challenges, requiring an exceptionally swift response to ways we delivered services.
We wasted no time adjusting our reality and within 30 days, we quickly converted our pediatric therapy services to an online platform and permitted our employees to work remotely. We made these changes to protect our people, continue providing life-changing services for our clients; and to keep our agency and the community safe.
I am proud to say that while the pandemic might have slowed us down, it certainly did not stop us. Over the past fiscal year, we provided pediatric therapy treatment, early learning services and community-based services to over 700 children and adults with disabilities and their family members. In total, we provided 329,300 hours of therapy sessions, childcare services, adult day training and treatment hours and home and community based service hours.
I am deeply grateful to our passionate staff members for your compassionate service. This past year has been challenging and has affected all of us in some way; however, our staff have remained dedicated to help us achieve our mission of providing critical services to our children and adults with disabilities. To our families receiving services from UCP, I want to thank you for the privilege of allowing our staff to serve your needs. I am grateful to our donors, volunteers, and community supporters for your generous gifts of time, talents, and treasure. And a special thank you to Circle K for the continued support through the canister fundraising program that has literally changed the lives of hundreds of families. We are forever grateful for your significant commitment to assist individuals and their families achieve a life without limits.
Together, no matter your role, we all have made these life-changing and supportive services possible to those counting on us, especially during this pandemic. This past year has been tough, but we remain hopeful for 2021! We continue to develop and expand to bring new and innovative services to our agency and hope that you will be inspired to get involved with us.

I invite you to read our 2020 Annual Report for more information on our successes.
– Brenda Hanserd, CEO, UCP of Central AZ
Honor a Parent You Know This Mother's Day and Father's Day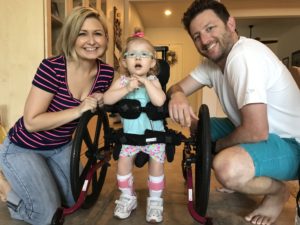 Do you know a superhero mom or dad who cares for a child with a disability, or an individual with a disability who is a superhero to their child(ren)? We want to hear their stories!  
We encourage you to send us a picture of a mom or dad whom you think deserves our recognition and a sentence or two about them. For a donation of $25 or more, your superhero parent will be featured in a video that will air on UCP's official Facebook and Instagram pages, YouTube channel, and website. There will be two videos: one honoring mothers for Mother's Day and one honoring fathers for Father's Day. Each video will air on its respective holiday (May 9 for Mother's Day and June 20 for Father's Day). 
The deadline for submissions for Mother's Day is May 6 at 11:59pm. The deadline for submissions for Father's Day is June 17 at 11:59pm. 
Submit your photos and a sentence or two about your superhero mom or dad to Alexis Ferri at [email protected].  

---
UCP Downtown-East Grand Opening
On Monday, February 22nd, UCP opened its doors to a brand-new pediatric therapy clinic located inside Ability 360. Nestled between the 202 and 143 in East Phoenix, the new facility is conveniently located and serves a population of hundreds of children with disabilities. 
For the opening ceremony, eight-year-old Aurora was given a very important task: cutting the ribbon. 
"I'm cutting the ribbon!" she said happily as she and one of her therapists used special scissors to officially open the new clinic. Viewers watched on Facebook Live as Aurora's team of therapists cheered her on. Then, with the ribbon cut, she turned to the camera. 
"Come on in," she said, her huge smile evident through her eyes despite her mask, "and let me show you the place!" 
Aurora is one of the children that receives services through UCP's pediatric therapy clinic. UCP Downtown East continues to offer occupational, speech, and physical therapy to children from birth up to age 12. We have a new site, but we have the same team, the same passion, and the same excellent services.
Click below to watch the Ribbon Cutting Ceremony.  
Watch Now
I

ntroducing

 

UCP's Mobility Clinic
Even During Uncertain Times, We Are Committed To A Future Of Innovation
In the 1950s, UCP of Central Arizona provided wheelchairs and available resources to individuals with disabilities and their families. 70 years of new research, technology, and expertise later, we are changing the narrative. Now, in addition to providing available resources, we seek to help individuals out of wheelchairs.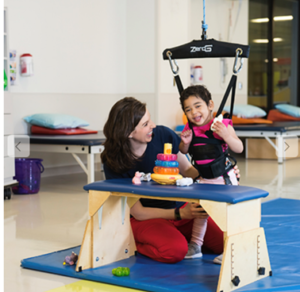 An exciting array of new pediatric therapy programs are currently being developed at UCP, all of which harness the power of innovation and which are run by compassionate experts.  
The Motor Disorder Clinic consists of new therapy programs for children with cerebral palsy, rare disorders or genetic disorders that affect a child's ability to move.
"Mobility is intrinsic to child development," said Valerie Pieraccini, director of UCP's therapy program. "Mobility allows a child to explore their world, an act that is crucial to play, learning, and the acquisition of fundamental life skills such as gross motor skills, fine motor skills, self-help skills, adaptive skills and social or emotional skills. To understand the importance of mobility, one needs only to visit a playground full of children and watch them jump, climb, throw, chase, laugh, scoop sand and shout."
An integral part of the Motor Disorder Clinic is robot assisted gait training (RAGT) using the latest innovative, state-of-the-art technology: the Aretech ZeroG® Gait and Balance System. It is a system of 58 feet of a U-shaped track, a passive trolley and 4 harnesses, and it provides dynamic body-weight support and fall protection through sensors for intensive gait and balance therapy.
Although therapy programs exist in Maricopa County that provide physical and occupational therapy, none of them provide the opportunity for Robot Assisted Gait Training for young children. The ZeroG is the only device that can be used with children with a body weight as little as 20 pounds, in order to work with children as young as one year old who are crawling and taking their first steps.
"The ZeroG at the Laura Dozer Center will bring this opportunity to Arizona's children with motor disorders and delays that is lacking in the Southwestern United States," said Valerie Pieraccini.
The track for the ZeroG will be installed at the Laura Dozer campus in the therapy clinic in May and the team is incredibly excited!
"This will be something heavily integrated into current physical and occupational therapy sessions," she said. "It'll help kids go from sit to stand, crawling to walking, it even can go over stairs… it'll be a huge benefit for our kids."
UCP is grateful to the Board of Visitors for their generous grant which has funded phase one of the ZeroG installation. Founded in 1908, the Board of Visitors is the oldest women's charitable organization in Arizona and is dedicated to meeting the healthcare needs of women, children, and the elderly. Their investment in the future of Arizona children is a legacy that will continue for many years to come.
"Imagine offering a service for children with physical disabilities that could mean the difference between a child being able to move around our gym and enjoy their body versus only being able rather than being limited to a stationary piece of equipment on a treadmill," said Valerie Pieraccini.
---
Augmentative and Alternative Communication Program
In addition to the RAGT, UCP is developing a program to serve children with disabilities with expressive communication disorder. At the request of the community, UCP is launching the Augmentative and Alternative Communication (AAC) program. 
"To communicate is essential to being human," said Valerie Pieraccini. "Words are not only the tools of poets and marketing firms but also the essential tools of children. Language is the framework for children to gain cognitive, emotional and social skills for life. When words are not possible due to a disability, speech and language is delayed, negatively impacting all of development." 
The AAC program changes that. Providing a speech-generating device to a child gives them the ability to say, "I love you," or tell a friend, "Let's play!" Assistive technology allows a child to share thoughts, ideas, wants, and needs. Depending on the individual needs of the child, the technology ranges from a paper with symbols to a complex eye gaze device that allows a child to scan symbols. 
The AAC team at UCP consists of a speech-language pathologist, an occupational therapist and a physical therapist. They will provide evaluation, positioning and access recommendations, trialing of devices, and training on how to use speech devices. The overall objective is to provide the child and their family the opportunity to test different speech devices, mounting systems, access switches and positional aids to determine what would be best for each child. 
"Imagine," Valerie said, "giving a child the gift of saying, 'I love you.'" 
To read more about UCP's other developing therapy clinic programs, click here.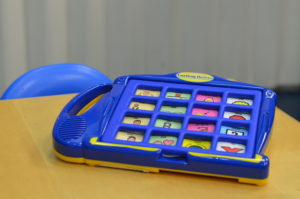 The Pandemic Hasn't Slowed Down The Fun at the ELC
On April 22, the children of the Early Learning Center observed Earth Day with a celebration of gardening and painting. Masks were worn, health screenings were done, and each child could have one parent present… and a blast was had by all.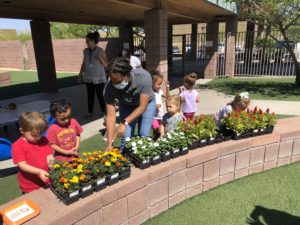 After shutting down temporarily in March 2020, UCP's Early Learning Center reopened three of its classrooms to 16 children on August 10. Anticipating challenges in welcoming children back to a different environment, the staff took extra measures to ensure the children would feel right at home on campus. Teachers sent videos of themselves to the children and parents prior to their arrival, to show them what their faces looked like with masks on and to prepare them for what they would see in their classrooms.  
"It's actually been a really positive transition back," said Katy Moon, Early Learning Center program director. "We anticipated that it would be hard for a lot of the kids to return after being at home after four months. We anticipated a bit of a struggle…. But we opened, and nobody was sad!"  
"Not sad" is an understatement. Katy described the children as so excited to be back every day that upon arrival, they want to run straight through the gate to the classrooms—which they can do, as soon as they get their temperature checked! 
Temperature checks and curbside drop-off weren't the only measures that were put into place by the incredible ELC staff. Throughout the day, teachers positively encourage the children to have space between each other, ensure everybody sanitizes hands frequently, and thoroughly clean toys multiple times throughout the day. Additionally, each child has their own box with personalized items more difficult to sanitize such as markers or crayons. Parents brought personal belongings in advance so there would be no transfer of items back and forth between the classrooms and home. 
Even though the ELC is licensed for 100 children, they started very slowly with 16, eventually increasing numbers so that today, there are 30 children. The reopening success has been so great that more families are inquiring about availability by the day. 
"The outpour of appreciation and gratitude from families has been amazing," said Katy Moon. 
---
UCP's Therapists Are Unstoppable
When a child with a disability comes to UCP, there is an entire team of people working behind the scenes to ensure their success.  
The UCP's pediatric therapy clinics consist of teams built of physical, occupational, speech, and feeding therapists, all of whom are experts in child development in their fields. Dividing and conquering the Valley at two different locations, nine therapists run the show at UCP's main Laura Dozer campus while six take charge of UCP's newest location: a downtown-east facility located in the beautiful Ability 360 Center.  
The team is overseen by Valerie Pieraccini, Director of Therapy Programs and Early Learning Center, and Therapy Program manager Laura Hazy. It is backed by two medical front desk receptionists, a referral specialist, an authorizations specialist, and an administrative support coordinator, all of whom play essential roles in keeping children's referrals, evaluations, on-going schedules, billing, and on-going therapy reports running like clockwork.  
When COVID-19 came to Arizona, Laura Hazy said that challenges of navigating a pandemic was overwhelming but the team was determined to carry out UCP's mission of serving the children. challenging to say the least.  
"There's been a lot of change," she said. "The clinics being closed for April, May, June, July… it was really tough on the team. But we are on track [for serving the kids] and that's going really well."  
The pandemic brought a temporary closure of UCP clinics on March 27th, 2020 which meant that the therapy team had to rapidly figure out a solution for children who simply could not afford to miss therapy sessions. With the needs of the children on the forefront of their minds, one week later, the therapy team began offering teletherapy, which is a way for therapists to provide therapy virtually with families using a secure video call. Virtual sessions are a way for children to maintain progress as well as a way for parents to gain hands-on techniques from therapists in order to help their children succeed at home.  
The staff were amazed with the creative solutions of families who made homemade versions of equipment. Staff were equally creative. Iman Johnson, occupational therapist, made a video inviting children to therapy on the computer screen. Brittany Dichraff, physical therapist, visited one little girl's home by waving through the window when the little one missed visiting "Miss Brittany."  
The therapy clinics reopened at a limited capacity in late July 2020 and are slowly adding more in-person visits. Today, approximately 70% of children are seen in-person while 30% do remote teletherapy. 
Many families are ready to be back in person. From school closures to changes in routine – which can be detrimental to a child with a disability who relies on consistency – navigating the pandemic has been challenging for them. "A year later a lot of families are ready for that return to normal" ,said Laura.
But despite the turmoil of last year, each member of UCP's pediatric therapy team has shown time and time again that they do what is best for the kids. From making teletherapy sessions work to keeping the kids' safety at heart, UCP's therapy team has shown resilience, commitment, and above all, a fierce love for each child that comes to UCP.   
Help UCP's therapy team continue to move forward with a donation today and change the lives of children counting on them.

No More Cabin Fever: Members Thrilled to Return to UCP!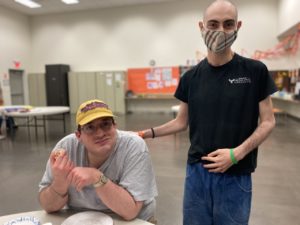 On a warm April morning, a small group of adults gathered in one of UCP's outdoor spaces at the main Laura Dozer campus.  
One individual bounced a basketball on the concrete. Another sat and carefully concentrated on moving his toy cars. Others milled about, taking in the sunshine, smiles wide on their faces. A breeze occasionally blew through everyone's hair. 
Members of UCP's Day Treatment and Training program were outside together for the first time in months, and spirits were high. 
Mary Kellogg, interim program manager for DTA, said that when her program staff and the members returned indoors, the happiness was evident in everyone's faces. 
"They just loved being outside," she said. "It made a world of difference." 
During the height of the 2020 pandemic, UCP's Day Treatment and Training (DTA) program temporarily closed on March 26 and didn't reopen until August. Today, the program is open to a smaller but thriving group of individuals who are excited to be with their friends once more. Located at a smaller facility a few blocks away from UCP's main campus, the DTA program is in the process of relocating to UCP's Laura Dozer facility where member will have access to an outdoor recreation area all the time. 
Originally serving 30 members, the DTA program has safely reopened to half capacity. Mary says that one of the benefits of having a smaller group is that more one-on-one attention is given to each individual and that each person is learning more than ever. 
"For a couple of members, their goals are to write down or trace their names and addresses, and one of them has learned typing on the computer," she said, pride evident in her voice. "Another gal with [cerebral palsy] and has limited use of her body, hands, arms—she has been learning how to sign. She's also been learning how to close the lid on her lunch bowl when she's done with it. She's doing more things for herself. And her mother is just so impressed with the improvement she has made." 
In addition to overseeing the Day Treatment and Training program, Mary Kellogg is the manager for UCP's Home and Community Based Services program. She said that the program staff have been remarkable in coming back to work and praised her team for their commitment.  
"The staff have been really good. Those who have been working here have been so dedicated and so blessed to be back to work and being with their members," she said. 
Mary Kellogg sums up the heart of UCP's mission and commitment by emphasizing how fortunate she feels to come to work every day. 
"I have often been told that I am a special person or that it takes a special person to work with a person who has a disability," she said. "I have to say that it is an honor and a gift that I am able to serve and support each and every person I come in contact with every day I go to work. I have learned and continue to learn so much as we work and grow together." 
One Year Ago, Everything Changed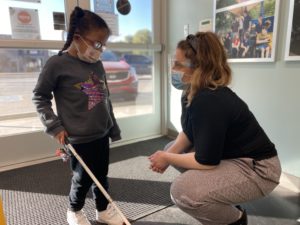 When we reflect on where UCP of Central Arizona was one year ago when the world changed, it can be difficult to accurately calculate the effects of an unprecedented global pandemic and how UCP rose to combat them. Do we count the number of masks that have been worn by our employees and families over the past year? The number of boxes of plastic gloves opened? The bottles of hand sanitizer used? 
Do we marvel at our pediatric therapy clinic's ability to switch to teletherapy sessions almost overnight? The number of children who were able to successfully continue therapy despite the mandatory shut down? 
Do we consider the number of times a Home and Community Based Services employee put on their personal protective equipment to go into the home of an individual with a disability who still needed services? 
When we think of the impact of an unprecedented pandemic, our first instinct might be to count the days and weeks and months our Early Learning Center, in-person therapy services, and Day Treatment and Training programs were closed for the safety of our families. 
But would it be more accurate to measure impact in the shrieks of joy from the children back in August as they
ran back to their classrooms where their masked teachers awaited them? In the number of ear-to-ear smiles on faces as members re-entered the familiarity at UCP's Day Treatment and Training program? In the tears of happiness from parents whose children were so excited to see their therapists in-person again?  
Would it be accurate to count the number of donors who graciously continued to give what they could? The number of corporate partners who have stepped up to help us fund our essential programs? 
And how – how? –  do we unequivocally measure the hearts of each employee at UCP whose flexibility, time, patience, passion, expertise, and commitment are the reason we are still here? 
Do we count the hours they worked?  
The number of individual homes that became offices?  
The moments spent rearranging, accommodating, modifying, redesigning how we deliver services for our children and teens and adults and their families? 
One year ago, everything changed. 
Nearly everything.  
The one thing that did not change was the strength of the UCP team and our commitment to our children, teens and adults and their families.  
That alone is immeasurable. 
And while the impact of the global pandemic will lessen over time, UCP is determined to ensure that our impact on those we serve will last forever. 

Great news Arizona Residents! Due to the COVID-19 pandemic, the deadline to file your taxes has been extended until May 17, 2021. This also means you still have time to take advantage of the AZ Charitable Tax Credit, where you can donate up to $800 to your favorite qualifying charity and receive it back on your 2020 tax returns.  If you already filed your taxes then you can claim your donation next year in your 2021 tax returns. If you are filing your taxes as single, the max allowable tax credit donation is $400. If you are filing married the max allowable tax credit donation is $800.
________________________________________________________________________________________________________________________________
Calling Corporate Partners: After over a year of no social gatherings, we are excited to announce our in person Gala this Fall 2021. Sponsorship Opportunities now available.
Saturday, October 9th 2021- Mountain Shadows Resort- Paradise Valley                                           
________________________________________________________________________________________________________________________________
UCP of Central Arizona
1802 W. Parkside Ln Phoenix, AZ 85027
Toll free: (888) 943-5472
Telephone: (602) 943-5472
FAX: (602) 943-4936
E-mail: [email protected]