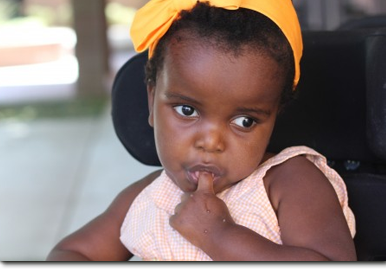 Before receiving services from UCP, Ruby resided in an orphanage in
Uganda.  She was a year old and weighed just 6 pounds. She was also malnourished.  Although, there were a lot of circumstances, that made things difficult we were still able to adopt Ruby!Our family then relocated to Phoenix so that Ruby could be under the care of a neurosurgeon. Ruby had also under gone 5 brain surgeries during that time.
Despite of all the these processes, and battles,  we were fortunate to have been able to have the opportunity  to meet Artemis, who is a  Physical therapist at UCP. Artemis has provided physical therapy to Ruby, which has led to begin her journey in progressing in her goals  including rolling and crawling. We are forever grateful for Artemis and UCP!
Ruby's: Mom