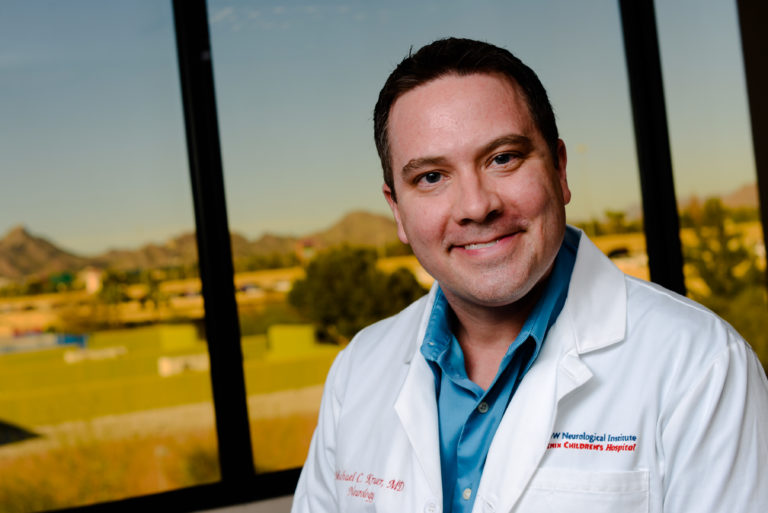 UCP Board Member Dr. Michael Kruer on the Future of Cerebral Palsy Treatments
United Cerebral Palsy of Central Arizona Has the Insights of one of the Nation's Top Researchers
United Cerebral Palsy of Central Arizona (UCP), a 501(c)(3) nonprofit charity organization dedicated to helping children and adults with a wide array of disabilities including cerebral palsy (CP), operates under the stewardship of a diverse board of directors. Dr. Michael Kruer, director of the Pediatric Movement Disorders Program at Phoenix Children's Hospital (PCH), serves on the board, providing his insights as a leading researcher at one of the nation's top children's hospitals.
His recent efforts in the field of neurogenetics may help shape the way physicians respond to and treat different cerebral palsy patients. In an article published in Nature Genetics, researchers confirm about 14 percent of cerebral palsy cases may be linked to a patient's genes. Dr. Kruer was the senior author of that article, and quoted in it saying, "Our results provide the strongest evidence to date that a significant portion of cerebral palsy cases can be linked to rare genetic mutations … We hope this will give patients living with cerebral palsy and their loved ones a better understanding of the disorder and doctors a clearer roadmap for diagnosing and treating them."
Dr. Kruer began his journey with UCP under the mentorship of Dr. Peter A. Blasco at Oregon Health & Science University, hoping their work could make a difference in the lives of those affected by CP. Upon his arrival at PCH in 2015, Dr. Kruer identified opportunities for collaboration between UCP's local chapter and the renowned children's hospital. He began working closely with Armando Contreras, CEO of UCP National, to create a bridge between the two entities. The connection between the two was a natural progression, as many of Dr. Kruer's patients turn to UCP for additional assistance.
Each member of the UCP Board brings a unique expertise to the table. Dr. Kruer describes his role thusly: "I help bring perspective, from the side of health care providers, to help shape the vision and mission for UCP." He added: "Pushing UCP forward is one of my main objectives. By asking the hard questions about distinguishing UCP and creating meaningful impact for CP patients and their families, I keep the families we serve at the forefront of our considerations." A 2019 Laura Dozer Award recipient, Dr. Kruer has been recognized for going above and beyond his normal daily responsibilities to support, nurture and promote lives without limits.
"Dr. Kruer's commitment to helping realize lives without limits for those served by UCP is nothing short of extraordinary," comments Brenda Hanserd, CEO of UCP of Central Arizona. "The therapies offered by UCP make an enormous difference in the lives of those we serve, and we strive to continue improving our offerings. With the research Dr. Kruer and his colleagues produce, our programs will evolve along with the findings."
In addition to serving UCP locally, Dr. Kruer works with UCP at the national level to set research priorities for the entire organization. Dr. Kruer and Valerie Pieraccini, UCP's Director of Therapy Programs and Early Learning Center, are co-chairs of the UCP National Research Committee.  The focus of the committee is early identification and early treatment of cerebral palsy and related disorders.
Working on a daily basis with cerebral palsy, movement disorders and rare diseases patients, Dr. Kruer is well-positioned to understand the needs of patients as well as partnering to find individual solutions. Always looking to improve existing programs, UCP strives to improve the quality of life for all who come through its doors.
A brighter future is in store for those living with CP. With pioneering research from Dr. Kruer and his colleagues, treatments may soon be aimed at addressing underlying causes of CP. "We are making strides," said Dr. Kruer. "Doctors are now able to identify abnormalities very early on, and personalized treatments directed at root causes of diseases are beginning to be developed. Both medicine and therapies are advancing, and UCP is driving awareness, supporting families, and disseminating the best interventions to the community."
About United Cerebral Palsy of Central Arizona
Since 1952, United Cerebral Palsy of Central Arizona continues to prove it is more than the name. With an array of specialists and experts in the field, UCP impacts the lives of more than 3,000 differently abled people each year, with the highest quality of care. To learn more about its services and events, or how to help, head to ucpofcentralaz.org.