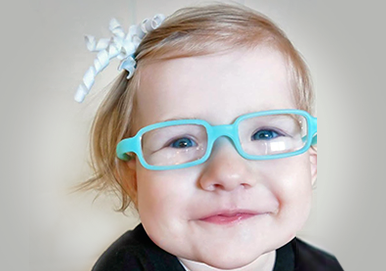 My husband and I are the parents of a beautiful, joyful little girl, Alexandra Nicole. We had a happy, healthy pregnancy and delivery. She was an ounce shy of eight pounds and within two weeks she was holding her head up. We notice at between eight and nine months, she was not meeting her development milestones: she could roll over but not crawl. At 10 months, she began early intervention therapy services at UCP with weekly physical therapy, bi-monthly occupational therapy, and at 14 months, she started bi-monthly feeding therapy.  By 15 months, she rolled around and would sit up (assisted to position) and hold that sit unassisted for several minutes while playing with her toys.
On April 25, 2016, our world was changed forever. She was 15 months old and after doing the chromosomal micro array via a saliva swab, her pediatric neurologist diagnosed her with Pitt Hopkins Syndrome (PTHS), an extremely rare, neuro-developmental disorder caused (in her case) by a micro-deletion of her TCF4 gene on her 18th chromosome. The news was devastating to say the least… a moment doesn't go by that we don't think about her and her recent diagnosis. There are less than 600 people (mostly kids) in the world diagnosed with this syndrome. There are less than 400 here in the United States…and only 4 diagnosed kids here in Arizona, Alexandra is one of them.  I am thankful we did not have to go years with unanswered questions or put her through additional testing.  PTHS is characterized by developmental delay, possible breathing problems of episodic hyperventilation and/or breath-holding while awake, gastrointestinal issues, lack of speech, and distinctive facial features. Delayed milestones are reported in all, with hypotonia in most. Global developmental delays are significant and intellectual disability is moderate to severe; most affected individuals are nonverbal. Other common findings are behavioral issues, stereotypical movement, seizures/epilepsy, constipation, and severe myopia (nearsightedness). As we learn more about PTHS, the developmental spectrum of the disorder is widening, and can also include difficulties with anxiety and ADHD and sensory disorders.
Through the amazing therapists at UCP, Alexandra has been able to find the strength and coordination to do things we never thought possible. A year ago she barely rolled over. Today, she is able to stand with assistance and support her weight in a safe position, huge!  She is also able to grasp a spoon,has learned where her mouth is and started to take assisted bites. One day we truly believe she will self-feed!  While she is still not crawling or walking, I do know in my heart that she is on the path to getting there; all due to the incredible dedication, support and knowledge of her amazing UCP therapy team. Not only do they support our Alexandra, but they are our personal cheerleaders in life, helping us as parents find our way along this new journey.  We could never thank them enough.
Many have said 2016 is a year that can't leave us quick enough. I do have to agree. It was the most difficult year I never imagined having to face. Growing up, falling in love, getting married, starting a family and building a home are all things I dreamed my future would entail. Being a parent to a child with special needs was something that I honestly never thought I would be capable of doing. You can't plan for it, you don't expect it, you aren't ever ready for it…for this different and sometimes scary life. But, through it all, these past 365 days have taught us more than we ever could have imagined learning. Our beautiful, joyful little girl, Alexandra Nicole continues to be our beacon of light. Shining brightly along this new path. Her sweet "voice" can silence a noisy room, her giggles can brighten any day, her tender touch can soothe any heartache…her sweetness runs deep into her soul. She will help change the lives of others that choose to embrace our life with Pitt Hopkins Syndrome. While there is no cure, we remain hopeful that one day there will be. Simply put, we are devastated but know through research and support her future will be a bright one.
Click here to follow Alexandra's journey 
-Nicole and Matt Anderson, Alexandra's Parents