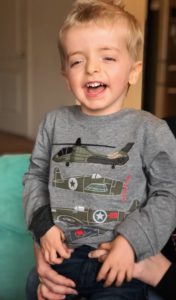 Colton started showing clear signs of delays around 6 months of age. We noticed he wasnt holding his head up, trying to sit, or waving his arms and legs like babies typically do. We expressed our concerns to his pediatrician at the time and she brushed it off as "first time mom" worries and ensured us that he was fine and would catch up even though he was having the hardest time gaining weight. I just KNEW something was wrong. It wasnt until he was about 10 months old that she finally agreed to write him a referral to Cranial Technologies for a DocBand. His head was consistently growing larger and heavier and he just didnt have the strength to lift it, causing plagiocephaly. The clinic was worried about excess fluid on his brain and wouldnt fit him with a DocBand until he had an MRI showing no fluid. I will never forget the day we got the MRI results, it changed our lives.
The neurosurgeon explained there was no hydrocephalus which we were ecstatic about but went on to explain other issues and telling us that he didnt know what kind of life Colton would live or what he would be capable of doing. It was heartbreaking. The left side of his brain wasnt growing like it was supposed to, there was more fluid filled spaces than actual brain matter. This side of the brain is responsible for analytic thought, language, reasoning, etc. This was a devastating find for us, but we remained hopeful. We were immediately thrown into a life we werent emotionally or mentally prepared for.  Over the next few months, we started Early Intervention therapies with UCP. It was life changing for not only him, but our whole family. The therapists we have had the pleasure of working with here are nothing short of amazing!
Colton is 5 years old now, and weve been with UCP for 4 years now. He has made INCREDIBLE gains. The therapists here have noticed things with him that I didnt, leading us to diagnoses we wouldnt have urged the doctors to examine. For example, his Early Intervention speech therapist noticed almost immediately that he was possibly silently aspirating and urged us to get a barrium swallow study done. He ended up getting admitted the day of the study for G-tube surgery because he was silently aspirating on EVERY consistency. No wonder he wasnt gaining weight! In these last 4 years, he has come from barely moving his head or limbs to being able to explore the world around him INDEPENDENTLY. He can push his wheelchair, ride a modified bike, take bites of food, play with toys while sitting up unassisted, but most importantly he is THRIVING and LOVING life!
Today, he was many diagnoses but none of them stop him from fighting his best fight everyday. He has most recently been diagnosed via WES testing. They found him to have an ultra rare de novo chromosome disorder on his TRIO gene. Theyre calling it MRD44, and there is only one other documented case in the world with the same exact located mutation. He is truly unique! Unfortunately, that makes his case much harder to navigate as there is just no research regarding this gene.
UCP has been the center of this crazy whirlwind we live. Theyve been our rock. We come here almost every single day and will continue to come here as long as we can. His therapists have always been kind and gentle with him, but really push him to be the best he can be. They always respect his limits and work around his boundaries to continue his growth. UCP has given me the confidence as his mother, to never give up hope and to keep fighting alongside him because hes capable of living his life without limits!
Maureen, Colton's Mom