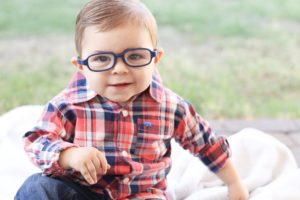 Our son Max was born full term in April 2016 after a seemingly normal, healthy and uncomplicated pregnancy. After noticing an obvious difference in Max around 3-4 months old (favoring one hand over the other and an overall weakness in his right side) we brought our concerns to his pediatrician and were sent for an MRI. Shortly after, Max's Neurologist confirmed that our baby had suffered an ischemic stroke on the left side of his brain sometime during the second trimester. The stroke affected most of the left side of his brain which controls the right side of the body and is home of the language center. Speaking, listening, reading, writing and all things powered by the left hemisphere of the brain.
As a result of Max's stroke, he is diagnosed with right spastic hemiplegia, cerebral palsy.
We had no idea what to expect when we began early intervention services and first went with an automatically assigned provider. After a couple months of things "just not clicking" we put in a request to be switched over to UCP and it was the best decision of us! Max has done so well and made amazing progress since the switch about a year ago. Max works hard in physical, occupational and speech therapy and he has accomplished so much more than we ever could have expected. The team at UCP is truly the best and we are so grateful for the one of a kind therapists Max gets to work with regularly. Each therapist takes the time to get to know our little boy and help him accomplish his goals. Our son is stronger that we could have ever imagined and because of him, so are we!
You can follow along with Max's journey at https://www.maxismighty.com
-JoAnn and Colin, Max's Mom and Dad