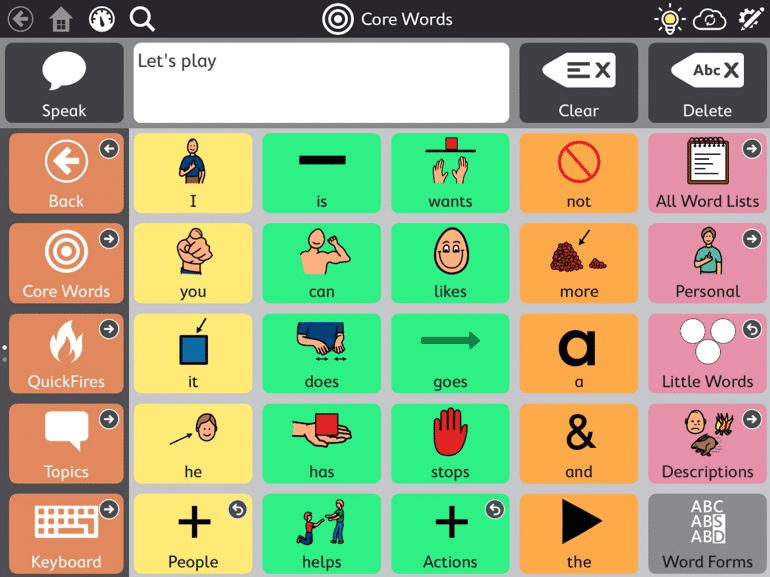 5 Common Myths about Augmentative and Alternative Communication (AAC)
Check out 5 Common Myths about Augmentative and Alternative Communication (AAC)
1. AAC is a machine that can produce speech
Not true. It is much more than that! The two main types of AAC are unaided communication and aided communication. Unaided communication does not require additional equipment. This includes pointing, facial expressions and even sign language. Aided communication requires tools to support communication. Tools may be low-tech AAC such as symbols, pictures, communication charts and core word boards and tools can be high-tech AAC such as speech-generating devices.
2. Only children who don't use words need AAC
Not true. AAC can be viewed as a transitional tool for children with language delays. Young children who use AAC transition into spoken language once they are ready. It can be viewed as an 'add-on' or support, especially when they are still learning to understand language.
3. AAC will keep my child from using words
Not true. In fact, it is just the opposite! Research actually shows that using AAC helps children make gains in their expressive speech because through AAC they learn the benefits of communicating and it can reduce their frustration.
4. A young child is not ready for AAC 
Not true. For children with physical disabilities, motor disorders or learning difficulties, it is best to introduce AAC as young as possible. This often starts with unaided communication such as pointing and then gradually moves onto speech-generating devices depending on their abilities.
5. High-tech AAC is better than low-tech AAC
Not true. One type of AAC is not better than another. There are pros and cons with each method and it depends on a child's abilities and what they prefer. For children with communication difficulties, a 'Total Communication' approach is usually encouraged as it makes use of the different modes of communication skills a child already has. For example, a child can say "hi" to a friend by waving a hand, point to a name card when the teacher is taking attendance, and ask for a snack using a core word board.
Reference: https://www.cdchk.org/parent-tips/five-common-myths-about-aac/